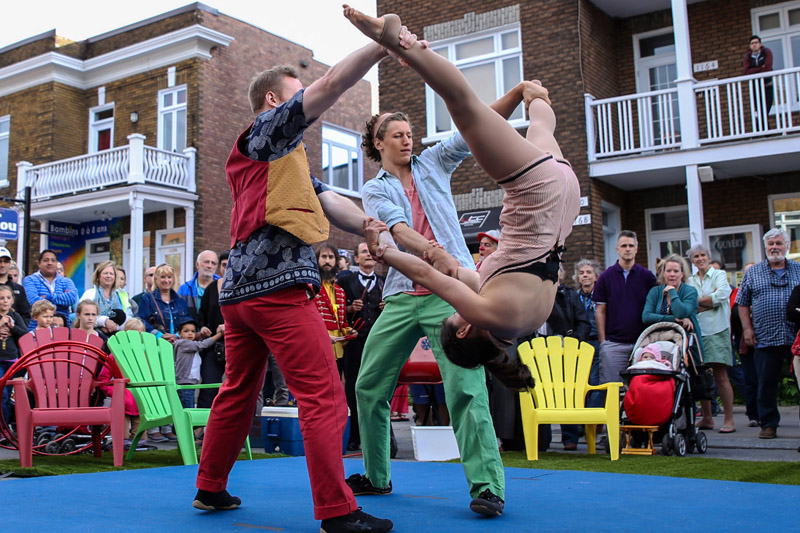 DODÉ is a unique blend of artists of all ages and from different horizons who use a range of artistic techniques. From every angle, it reveals the bonds that humankind can hope to achieve. It is an adventure filled with cheer!

The protagonists from L'Aubergine and the École de Cirque de Québec make fun of the audience and themselves. Sizing each other up, they take turns catching each other by surprise for the simple pleasure of going where the spark ignites, and discovering for themselves that water thrown on fire magically creates steam.

Precariously perched, the characters wobble between allurement and the loss of dignity, between the joy of living and the disillusion of appearances.


Credits

Director : Christine Rossignol
Interpreters : Caroline Baillon, Nathan Biggs, Emile Carey, Marie-Claude Chamberland, André Clérin, Michel Deschamps, Connor Houlihan, Mélissa Iturriaga, Méliejade Tremblay-Bouchard, Alberto Rabago
Acrobatic consultant : Julie Lavergne
Scenography : Huguette Lauzé, Josette Déchène

Featured artists :
Élisabeth Gaumond
Dominic Lacasse
Julie Lavergne
Fred Lebrasseur
Josette et Françoise Lépine

Show Details

This show was performed on Cartier Street, in Quebec City, as part of the 2016 Festival d'Été de Québec.
A collaboration between L'Aubergine and the École de Cirque de Québec.